Sarah's Backgrounds
Here are some backgrounds I have made. You are free to take them to use on your own homepages.
The only requirement I have is that you do not use them for profit without contacting me first and that you provide a link back to my site. It would be good if you could use the logo below but a text link is ok.
I would also like to see how they look so if you email me I will visit your site.
To see how the background will look on a full page just click on the image. Then use the back button on your browser to return here.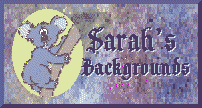 Logo created by Becky
---
Easter Backgrounds
Saint Patrick's Day Backgrounds
Valentine Backgrounds
Christmas Backgrounds
Kids Backgrounds
I have created some buttons to suit the bear background below. You can get them by clicking on the image.


Home
---
---