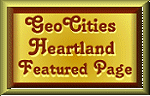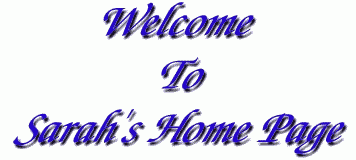 Hi, welcome to my homepage.
My name is Sarah and I live in Perth, Western Australia with my husband Daryl and our three wonderful children, Shauni, Kimberley and Harley.
It is now
in Perth, Western Australia.
I was born in Blackpool, England and came to Australia with my parents when I was two years old. We've been back to England three times since then but Australia is now our home.
I am now a full-time student studying the Diploma of Library and Information Studies, a two year course, which I started in February 2000. I like reading, crochet, cross-stitch and rubber-stamping. I always like to try new crafts so this list of hobbies is sure to grow in the future. To see pictures of some things I have made click here.
While running the Original ICQ Webring I came across a lot of homepages owned by people called Sarah so I made a new webring to connect all those pages. If your name is Sarah and you would like to join The Sarah Webring click here
I am Ringmistress of The Crafty Ring. The aim of The Crafty Ring is to bring together people who have an interest in any type of craft. All that is asked is that you have a couple of links to other craft pages. If you would like to join click on the graphic below.


Daryl has his own homepage dedicated to drink recipes, such as cocktails, mixed drinks and for the non-alcoholic drinker, mocktails. You can see his site here.
The children also have their own homepage in Enchanted Forest. You can see it here. Take a look at it and don't forget to sign the guestbook.

Song: New Years Day by U2
Courtesy of: U2 Station

I have made a number of friends on the internet. One very good friend is Becky who I would like to thank for the beautiful Have A Heart Award on my Awards page.



This site was updated on 25th February 2001
Try out my Geocities Guestbook!
Sign Guestbook
View Guestbook
I had some problems with the Guestworld guestbook so have taken it down. I now have a new Bravenet guestbook for you to sign. I have downloaded the Guestworld entries and will put the page up for viewing after I have edited the file.
---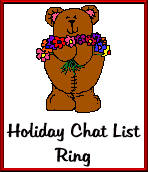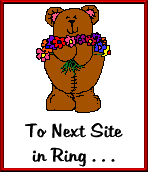 This Holiday Chat Ring site is owned by Sarah.

Want to join the Holiday Chat Ring?

[Skip Prev] [Prev] [Next] [Skip Next] [Random] [Next 5] [List Sites]
---